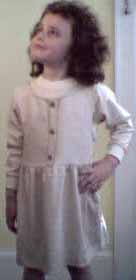 Enter this Giveaway with your choice of a Turner Designs dress and t-shirt (long or short sleeve.)
– or Turner Designs long pants and t-shirt or long sleeve sweat-shirt
– in size x-small small, medium or large, for boys or girls. Thanks to Born to Love website!
Head on over Frugal Freebies for directions on how to enter!
Your Giveaway prize is always free, there is no entry fee, no shipping & handling fee.
(Open to US & Canada, ends August 7th 2009)
Leave a Reply